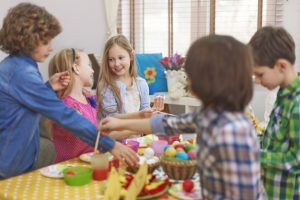 Most children love to engage in creative experiments, so why not use this to throw an unforgettable kids' party? Sure, it will take some managing and a bit of preparation, but perhaps less than you think. And don't forget to mention on the invitations that the guests should bring protective clothing (an old t-shirt from a parent is a perfect painting outfit). 
Stock Up on Materials
You'll need a lot of different materials to encompass all kinds of creativity. Order customizable stickers online, paper in many colours, paper scissors, pencils, rulers and glue. 
Sequins, glitter, markers, watercolours, clay for sculptures in various colours and different brushes are also needed. Scrap yarn, uncooked pasta in different shapes and plastic cups also have a lot of different uses.  
Prepare Stations
To avoid too much of a chaos, you'll need to prepare a few stations with different materials at each. To help the kids to get started, make something for each station in advance, to serve as an example. Try to use unexpected combinations of materials, or create something exciting that could inspire new thoughts. 
Don't forget to put lots of wiping tissues and a bin at each station.
The Party
You will need to serve cake and candy, just like at any other party. But don't be surprised if this doesn't take very long, as some kids will want to continue their creative endeavor.
If the cake is covered in sugar paste, you can use food colouring to paint it and make it into a piece of art and keep the theme.