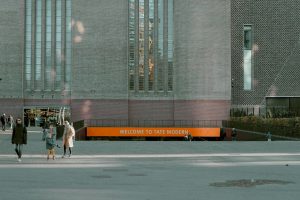 Tate Modern in London is one of the four Tate museums. It was opened in 2000, efter the 8-year long journey from the announcement by the Tate Trustees in 1992 that they would create a separate gallery for international modern and contemporary art.
The site selected was the former Bankside Power station, with an enormous turbine hall and boiler houses alongside it. The building has been redundant since 1981. Swiss architects Herzog & De Meuron were selected to turn the power station into a gallery. One of the main reasons they were chosen was that they wanted to keep as much as possible of the old structures and character of the building.
Today the turbine hall is the impressive entrance and display area, while the boiler houses are the main galleries.
In 2009, a project to improve Tate modern was initiated. The old oil tanks at the power stations were turned into more gallery space. Again, the architectural work was done by Herzog & De Meurer.
Collections and What's On Display
The collection of Tate holds more than 4400 artists, and 78000 artworks. Not all of them falls within the frames of Tate Modern, obviously, but there are still more than enough to change the hangings regularly.
Have a look online to see what is on display at the moment, and what you can find in the collection. All pieces that are on loan can be viewed at the gallery they have been loaned to. Should you be specifically interested in works that are not on display at the moment, you can send an email to Tate Modern and ask if a viewing can be arranged for you.
Some of the Artists In the Collection
Among the artists featured in the Tate collections, you will find for example:
Nan Goldin – photographer. She is famous for her portraits, often with a LGBT focus. The HIV crisis and the opioid epidemic are also themes that regularly show up.
Alberto Giacometti – sculptor. He is well-known for his sculptures of humans, with extended extremities, thin and spindly.
Edward Ruscha – artist. You may recognise his photographies of pools.
Alexander Calder – sculptor. Best known for his innovative and suggestive mobiles, i.e. small sculptures that are propelled by air currents.