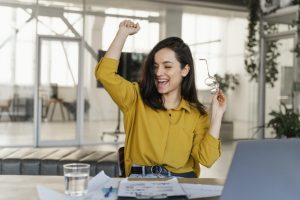 After all those months of lockdown, it seems far fetched that being physically present at work, among other persons, could ever be dull and boring. But once we get used to going to the office again, there will be days that are not as happy-go lucky as the rest of them.
If that feeling catches you, we have a few tips on how to make it evaporate or at least diminish. Since we spend a lot of time working, we should all try to feel as good as possible about it.
Personalize Your Equipment
This sounds silly, but trust me, it makes a world of difference. Buy custom laptop stickers and make your computer unique. It will both be easy to find and make you smile when you see it.
Custom stickers are also a good way of blinging any notebooks, phones or pens.
Spend Your Lunch Hour Outside
Being outdoors in daylight actually makes you happier. So bring a sandwich and a friend and go for a walking lunch. Chatting about non-work related things will also help to brighten your day.
Taking a brisk walk for ten minutes every day will make you more fit which will in turn help you keep your focus at work.
Still Bored at Work?
In some cases you are bored at work because you don't like your job. If that is the case, you should start looking for a line of work that would suit you better. Do you have contacts who can help?