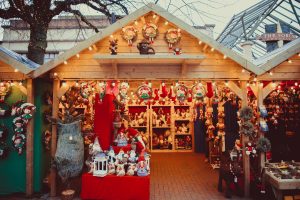 …Christmas is coming! Finally! I am most definitely a fan of christmas! I love the seasonal spirit, all the christmas decorations, the carols, the gift-wrapping and the preparation of food and candy. Apart from being festive, I particularly like the way all decorations really lights up the darkest time of the year.
From an art perspective, it is easy to get creativity flowing with some DIY decorations. Then move on to some more challenging projects, perhaps photography or acrylic paint. Small still lifes around the house to capture the spirit is also a favourite of mine, both compiling and looking at.
But for the ultimate inspiration, do visit a Christmas market. If you have the possibility, plan your visit for a time when there is a little less visitors. That will give you a better overview, and not having to crowd with the whole city might also give you some space for creativity and inspiration. Use a modern electric scooter to get there, and you donät have to worry about looking for parking spaces miles away.
Christmas Markets – a Small Guide
To get the most from a christmas markets, there are a few things to consider. The first one is, as mentioned earlier, trying to plan your visit to a time when there are fewer visitors. Earlier in the day tend to be better in this respect.
Then be prepared. Regardless of when you visit, there will be a lot of people. And a lot of christmas decorations. And a lot of christmas gifts. And a lot of candy. And a lot of… well, you get the picture. There is a lot at christmas markets, simply put. Don't get overwhelmed. Take in a little bit of the market at a time.
Creativity at the Christmas Market
If you are trying to get some creativity from the christmas market, I have two tips for you.
Bring your camera. Use it for snapshots that you can use for longer studies later on. Try to capture both scenes and feelings.
Focus on the handmade crafts items. Even if they are created in a technique you are not familiar with, you might be able to recognise some inspiration or understand the way the crafter thought when making it.