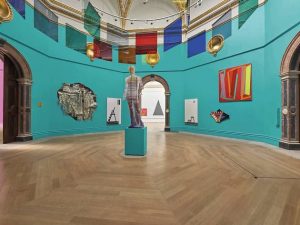 The Royal Academy of Arts Summer Exhibition in London is one of the largest and longest-running art exhibitions in the world. What undoubtedly makes it particularly unique is that it is open to all; any artist anywhere in the world can submit their work for consideration. Currently, there are no theme or topic restrictions, or which media the artists can use, so in principle, it can be an excellent showcase of what is happening in contemporary art each year. The Summer Exhibition first took place in 1769 and has run every year since, including the war years.
What Can Be Seen at the Summer Exhibition?
The Royal Academy of Arts is an art institution, with 80 artists as members. Each of them can exhibit six of their pieces at the Summer Exhibition, and all the rest are chosen from the submitted works. At the moment there is no theme for the exhibitions, though in the past there has been. The show is curated by an artist, who gets to decide how and where the works are exhibited, and how the overall layout and design of the massive exhibition will be that year.
Why Visit the Summer Exhibition?
For many years or even decades, the Summer Exhibition has had a reputation for being stuffy and conventional, an old and tired establishment which lacks all the excitement and energy usually associated with contemporary art. However, with Grayson Perry as a curator in 2018, when the Royal Academy of Art was celebrating the Summer Exhibition's 250th birthday, the show managed to be once again refreshing, funny, and entertaining. That gave it the push it needed for people to at least talk about it for a change. Whether the Summer Exhibition succeeds in becoming genuinely relevant again depends on its success in 2019. But whether or not it manages to push boundaries, at least it gives a (partial) overview of what is happening in art in the UK.