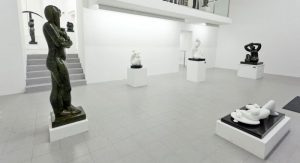 There is a plethora of modern art galleries in existence, making it a difficult task to select the best. That being said, there are those that stand out, and they deserve to be considered among the best. They include:
Galerie Kamel Mennour
Located in La Vieuville mansion, which is right in the heart of Saint-German, Galerie Kamel Mennour is named after its owner and director, Kamel Mennour. The gallery dates as far back as the 17th century and exhibits dozens of works by both renowned and upcoming artists, including the likes of Daniel Buren, Lee Ufan, Anish Kapoor, to mention but a few.
Galerie Thaddaeus Ropac
Galerie Thaddaeus Ropac is another internationally recognized gallery representing household names in the contemporary art world, including George and Gilbert. The gallery boasts space of exaggerated proportions, which makes the exhibitions in there so intense.
Galerie Perrotin
With up to three spaces in Le Marais, the famed Galerie Perrotin is perhaps one of the trendiest galleries on the planet. Yes, pushing the door to enter this gallery may be somewhat intimidating, but with the works of virtually all leading artists displayed here, a visit to this gallery is definitely worth it.
Galerie Marian Goodman
Marian Goodman is a leading gallerist in America and has galleries both in America and beyond. Galerie Marian Goodman exhibits works from some of the leading artists of the modern era, such as Christian Boltanski, Tony Cragg, Annette Messager, and John Baldessari. From disconcerting to theoretical works of art, this gallery has it all.
Polka Galerie
This gallery displays artworks from French and international photographers. One thing that perhaps comes out clearly from the gallery's exhibition are challenges that face the contemporary photography. Polka Galerie, which is located in Le Marais, also boasts a well-stocked bookshop, which focuses mainly on photo books.