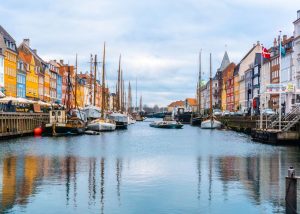 Denmark may be a small country, but the art scene in Copenhagen is alive and buzzing. So book a room at a hotel in Copenhagen, pack your bags and hop on a plane. The trip to Denmark is a couple of hours and Copenhagen Airport is situated close to the actual city with several trains an hour to take you right to the heart of the city.
In Copenhagen, there are plenty of museums and galleries with contemporary art to visit. While we love art and galleries, and think you should experience as many as possible, don't spend all your time on art. Try to get a feeling for the city itself and its inhabitants as well, and you'll be rewarded by the Danish "hygge", meaning something like "coziness".
Arken
Arken is one of the newest museums in Copenhagen. It is located just south of the city, placed in a beautiful man-made seascape. The building itself is also a piece of art, with a maritime design that has been noticed around the world. It was inaugurated in 1996, and it focuses on contemporary art.
The art collection comprises some 400 pieces, and focuses on Danish and Nordic artists, but with some international names as well. The main time period represented is 1990 and forward, and there are two major themes; the human condition of modern man, and art that questions the definition of art.
Copenhagen Contemporary
Copenhagen Contemporary, or CC for short, was originally a small 18 month-project in 2016-17, but re-opened in 2018 in a larger scale. Today CC is one of Scandinavia's largest exhibitions for contemporary art with around 7000 m2.
All kind of media is on display at CC – installations, video works and performance works can all be accomodated in the large venue, formerly a welding hall. CC is a lively meeting place for art audiences. Art talks, art walks, concerts and creative workshops for children are arranged.
SMK – The National Gallery of Denmark
As the national gallery of Denmark, the exhibition of SMK covers a lot more than contemporary art. The collections starts from the 1300's and takes you through time up until our present day. Still, the contemporary section is not to be missed, even if you are not that interested in the rest of the collection.
That being said, the SMK collection of the Skagen painters is impressive and well worth your time, being in Denmark and all.