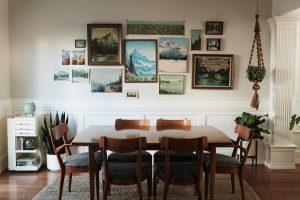 Having landscape posters can change the overall look of your house and bring a new design which expresses your personality. You do not have to buy expensive pieces of art for your home to stand out. Some of the tips to styling your home with landscape posters are as follows.
Know the Type of Art You Want
The first step you should consider before going to buy your landscape poster is knowing the kind of art which would work for you. This will be based on personal preference, space in your home, the effect you want, and other details. Doing research, both online and offline can give you some inspiration on the type of art suitable for your home.
Put It in the Light
The beauty of landscape posters is always seen when they are exposed to proper lighting. If you are putting it in the sitting room, you should bear in mind that landscape posters should ideally be placed where, when you draw the curtains or drapes, they are visible in the room.
Have Them at Eye Level
Unless there is an exception, such as trying out a different design, landscape posters should be at eye level, so that people who want to view them do not have to strain their necks. They should not be too high up above or have them so low that it becomes difficult to appreciate the images.
Go with a Theme
The theme of the posters you choose should complement that of your house. If you are going with monochromatic colours, the images should also be single toned, so that it does not look like there is too much going on in your home. If your home has predominantly warm tones, you should consider going for a theme which will not be too contrasting.