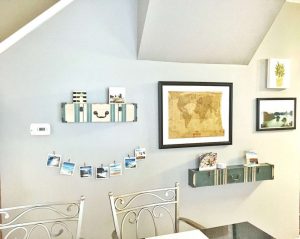 Travel posters are a great way to add atmosphere to your home. When people choose posters, they often opt for movie posters or reproductions of paintings. Even though both can be stylish, if you want to go for a more bohemian chic home, travel posters are the way to go. Travel posters as decoration are especially suited for people who love to travel, and who want to think about their past or future trips when staying at home and chilling on the couch. Just looking at the posters takes you away from the stress and worries of everyday life, and reminds you always of how great it feels to be free and adventurous in unknown places.
How to Choose Your Travel Posters
There is a vast variety of different kinds of travel posters, and there is something to fit the style and color choices of any home. You might want to choose images of locations which remind you of your favourite holiday destination, or ones that look like your dream trip. Choose cozy travel posters that inspire you and make you feel better. One stylish option is vintage travel posters. They give you the inspiration that travel photos do, but they are often also great art. For example, Roger Broder's travel posters about France are a chic addition to any home.
Where to Buy Travel Posters
Finding the kind of poster you like used to be a chore, but nowadays the internet abounds with choice. There are lots of online shops dedicated to posters, but even the major online retailers have a great selection of posters, including vintage travel posters. Posters always look better when framed, so it is worth ordering frames at the same time as the posters themselves. Frames can be pricey, but there are cheaper alternatives. For example, a simple black plastic poster hanger keeps the poster straight and instantly elevates its look.