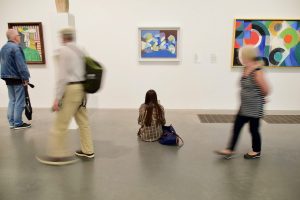 London is always a good place to visit for anyone interested in contemporary art. This is true also during the coming spring. There are numerous exhibitions around the city, all of them well worth visiting. We'll talk about a few in this post, but do check up what's going on if you are planning to visit the capital of UK.
Even if you are not devoting a full trip to art, but perhaps visit London for other reasons such as work, most of the time there are at least some opportunities to sneak off and visit the odd gallery. To help with those off-hand art experiences, it is best to come prepared. If you know where to go, you don't have to spend time finding out what to do.
Tate Modern: Steve McQueen
Tate Modern is always a nice museum weill worth visiting. At the moment, and until May 11, there is an exhibition on Londoner Steve McQueen. The exhibition spans the past twenty years, and 14 major works are on display.
Steve McQueen is known to many as an actor and director of feature films such as 12 year a slave. But in addition to that, he has also during this period created some of the most interesting works of moving images for galleries. Naturally, the two ways of making films have inspired each other, and this is one of the themes of the exhibition.
Whitechapel Gallery: Radical Figures
Radical Figures: Painting in the new millennium is a collections of paintings and painters that have rebelled against the proclamation of "painting is dead" in the 1980's. A new generation decided to make painting their own expression, but now with political undertones.
The canvases on display are radiant with colour and patterns, and the figures are sometimes standing out and sometimes blending in. A common theme among the artists is the joy of the medium of expressive painting, and the potential for impact it holds. The exhibition is open until May 10.
Dulwich Picture Gallery: Are You for Surreal?
Dulwich Picture Gallery celebrates 100 years of British Surrealism through an exhibition displaying more than 70 works from 42 artists. The surrealism movement was born out of the post-war uncertainty, and with the current state of affairs it still feels relevant.
The exhibition explores dreams and the subconscious, the irrational and impossible as well as sex, desire and politics. Not only paintings are on display, but the exhibition also covers books and objects from example Lewis Carroll and William Blake. Among the artists, there are both well-known names such as Francis Bacon and lesser known such as Reuben Mednikoff.
The exhibition is open until May 17.