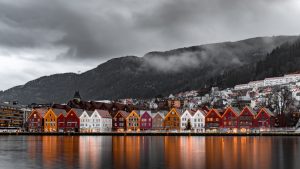 The second largest city in Norway, Bergen, is the home of a lively art scene. This is manifested throughout the city and one of the signs is the large number of museums and galleries. If you are into contemporary art, this is a city to visit. Book a room at a lovely hotel in Bergen, Norway and prepare for a few days of intense art immersion. 
Bergen is situated on the west coast of Norway, at the foot of seven (or rather eight) mountains. The views are breathtaking both from the top of the mountain and from the harbour. The harbour was one of the most important ones during the Hanseatic times, and the preserved Hanseatic Wharf is still a reminder of this. However today, the wharf is a social meeting place, packed with restaurants, shopping and cafés. 
KODE – the Big Museum
The largest museum in Bergen is KODE, a collection of art museums and composer's homes. Here you can find exhibitions on Bergen's development from the Middle Ages until today as well as interesting exhibitions on contemporary and modern art. 
KODE also comprises several composer's homes. They are open to visits, with the interior preserved from the days of the composers. Apart from experiencing the interior decoration you will also be familiarized with the composers lives and works. 
Bergen Kunsthall
Bergen Kunsthall is not only an exhibition space but also a commissioner of artworks. This plays an important role in the development of the art scene in Bergen and all of Norway. 
There are three exhibition spaces at Bergen Kunsthall. The largest, Kunsthall, hosts major exhibitions of national and international artists. The smaller arena, Gallery NO5 focuses mainly on independent art and up and coming young talents. For screenings and performing arts shows, visit the Landmark
Galleri s.e
Galleri s.e was opened in 1995 has has since become one of the most important private galleries in Norway. The focus is contemporary art, where the artists have a unique attitude towards painting, often combined with other techniques such as drawing and other figurative techniques. 
Among the represented artists is Dolk, creating what is commonly known as street art. His works resembles those of Banksy.