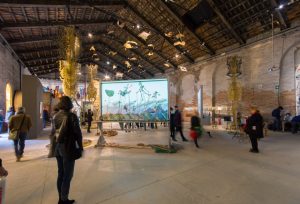 The Venice Biennale is one of the world's major art events, that takes place every odd-numbered year in Venice, Italy. It showcases contemporary art, awards the Golden Lion prizes, and sells art. The Art Biennale is a part of the Venice Biennale, which has events also for contemporary dance, cinema, architecture, and theatre. In 2019 the art exhibition's title is May You Live in Interesting Times, and it is curated by Ralph Rugoff, the director of the Hayward Gallery in London, and an art critic and writer.
The Art Biennale is also known as "the Olympics of Art", because it features national pavilions to which countries send artists to represent them. The exhibition area features thirty permanent national pavilions, and countries that do not own a pavilion exhibit at varying locations. Additionally there is a pavilion for young emerging artists, and artists from countries that do not exhibit. More than 80 countries participate, and each country has their own method of choosing who to send. Open submissions are becoming more and more popular, making the Art Biennale possibly more inclusive and representative of the world of art outside of the establishment. However, the national committees who choose the artist or artists from among the submissions are typically members of the art institutes of the country in question.
The Art Biennale first took place in 1895, and for a long time it used to be one of the few major international art events. Currently there are 320 biennial's all over the world, and 280 art fairs. However, the Art Biennale is still considered to be the world's biggest and most important contemporary art event. The event lasts more than half a year, and there are more than 500 000 visitors. Venice's uniqueness as a city and its role in the development of art throughout the times ensures the lasting appeal of the Biennale.