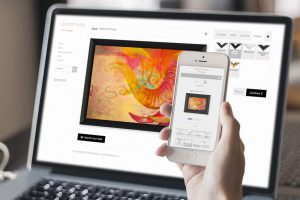 Today a lot of people are looking for online galleries. We have grown accustomed to finding everything we need online, and that includes art as well. For gallery owners, this brings new challenges. Not only must the art works be available online, they must also be shown with a suitable resolution and in an environment that makes the size recognizable. Naturally, the describing text must also be catchy, accurate and contain all relevant information.
It must of course also be possible to purchase the art works online.
Delivering Art
Once the virtual gallery is in place, we face the next new challenge: shipping and logistics. This is a really tricky part for most online dealers. The package must be handled correctly, it can not break and the freight cost should be as low as possible. 
Unframed prints and paintings can be shipped rolled up in a cardboard cylinder. Framed pictures or canvas prints are a bit bulkier and more difficult to transport. 
Benefits for the Customers and Gallery Owners
As a customer, I really like making art purchases online. It is easy, gives me plenty of time to look through the available works and it is super convenient to have it delivered. 
For gallery owners, it is also good, as it takes away the initial threshold for new customers who might find the gallery environment a bit intimidating. With clear custom label stickers on the package, it is also a good way of advertising your form to potential customers along the transportation chain.