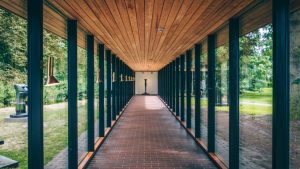 Sometimes we tend to forget that there is more to art than only paintings. I love physical forms, and therefore statues and figurines are among my favourites. Seeing the size of statues, you normally have to travel to enjoy them. And now, with the world opening up again after lockdowns, why not take a trip abroad to enjoy a different environment as well as some new art.
I love Denmark and Copenhagen since the combination of a lovely country and lots of art is almost a perfect one. Not to mention that there is a lot of really good food and drinks easily available. Book a stay at a hotel in Copenhagen and spoil yourself a little bit.
Louisiana Museum of Modern Art
It's easy to get to the Louisiana Museum of Modern Art by train from Copenhagen. There are departures several times an hour and the ride is 45 minutes.
If you're into statues like me, you'll love the collection of Giacometti statues at Louisiana. The tall figures seem to defy gravity and are just breathtaking.
For more statues, go out into the garden outside the museum where there are several works by various artists. And whatever you do, don't miss out on the stunning view out to the sea while in the garden. If the weather is nice you can even go for a swim in the ocean, so do bring your swimsuit.
Statues in Copenhagen
In Copenhagen you have to visit the Little Mermaid. But once you've seen her, there are lots and lots of other statues that are just as interesting. Some examples are Zinkglobal, Gefionspringvandet and the HC Andersen statue close to Tivoli.