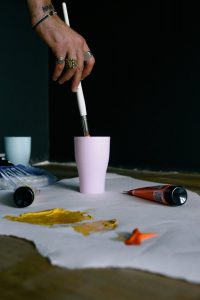 I love, love, love being my studio with all the material I need for creating right at hand. But more often than not, the creative flow I feel when entering my studio tends to wear off when I have to spend a lot of time finding all the material I need. If you are anything like me, you'll have to look in all drawers, in all boxes and even behind things on the shelves to get what you want. The creative chaos is a well known saying, but it also makes for too much time spent looking for what you need. And it doesn't have to be a studio of course, it might just as well be the corner of a room where you keep your easel, brushes and paint.  
What Goes Where
The first thing you should do is of course set aside some time for fixing your storage, once and for all. Then, at the allotted time, start by deciding what goes where. Throw out old dried paint, brushes that have seen better days, pencils that are too small to use, hardened rubbers… All the things that you don't use, basically. 
Label Your Storage
Once you have created order, the hard part begins: maintaining it. But, here's the trick: Labels. Label all the boxes and shelves, and you'll easily know where to get (and put) your things. You can get custom stickers online to make your markings perfect for you and your needs. And, by all means, feel free to make them as artistic as you wish.